Alvin

The Ultimate Elvis Tribute
Even aged 6...
​​...I was a poser!!!
​
​
​
​
Although it sounded like a zoo burning down, the very first time that I sang "Are You Lonesome Tonight?" and "Teddy Bear" at California Cliffs Holiday Park in Great Yarmouth, I knew I wanted to go into show business and for Christmas 1972 (L), my parents bought me my first guitar. This picture (R) was taken at the age of 16.​
​
Unbelievably there was a time I could "quiff" my own hair, as these pictures prove!
​
(I wonder what Elvis would have thought?)
I formed my first band "Capacity Crowd" in 1974 and these photos were taken at some of our very first gigs; including
The Old Railway Club, Aylesbury (L)
& The Nalgo Club, Aylesbury (R) - although named "Capacity Crowd" there were only 12 people in the audience!​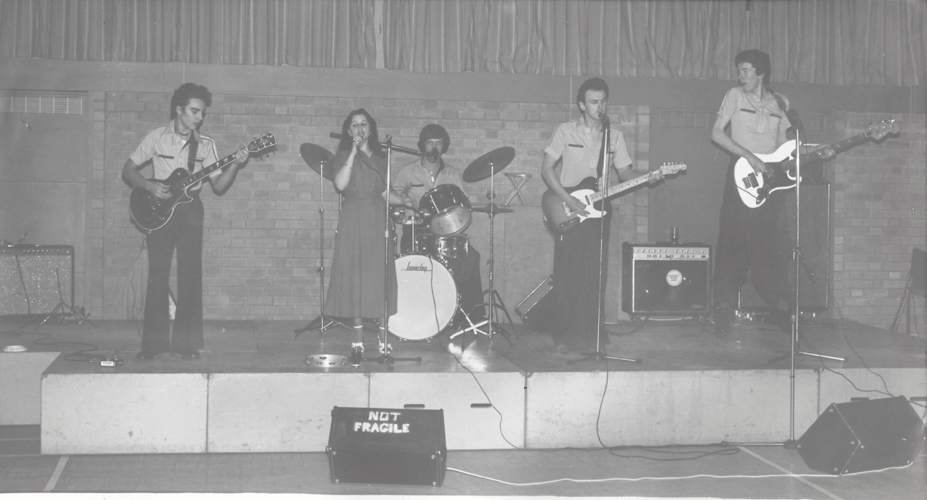 "Capacity Crowd" performing in 1977 at The Civic Centre in Aylesbury (below) as part of the Silver Jubilee Show "Youth Talent on Parade", pictured is a copy of the souvenir programme for the event and our very first photo to appear in the local newspaper.
​Yikes!!... my very first Elvis suit in 1981
(Ebay has nothing on me!).​
​
​
​
Due to musical indifferencies "Capacity Crowd" split in 1981, with the band wanting to take a more musical route and me, well, I wanted to take more of a cabaret step forward, hence later that year the formation of "The Itsy Bitsy Band", a comedy show band, pictured here in 1985.
Below, taken in 2005, "Alvin - the ultimate Elvis tribute" publicity photos
​
​
​
​
​
On stage at Woughton Campus in 1987.
​
For 9 years, the "The Itsy Bitsy Band" toured all over the world, performing in hotels, holiday centres and also to HM Forces. As time went by, with the continual demand and requests for my "Elvis" sector of the show, it became apparent that this would be my next step forward, so in 1990... "Alvin, the ultimate Elvis tribute" was born and pictured here (R) is my first official photo as "Alvin".
With the overwhelming success and popularity of my shows, it wasn't long before another significant element of my career materialised, in 2003 "An American Trilogy" was created - Elvis live on stage with an 18 piece band, comprising hand picked musicians & backing singers. These Trilogy shots include (below L) a photo taken on stage at our first show in 2003.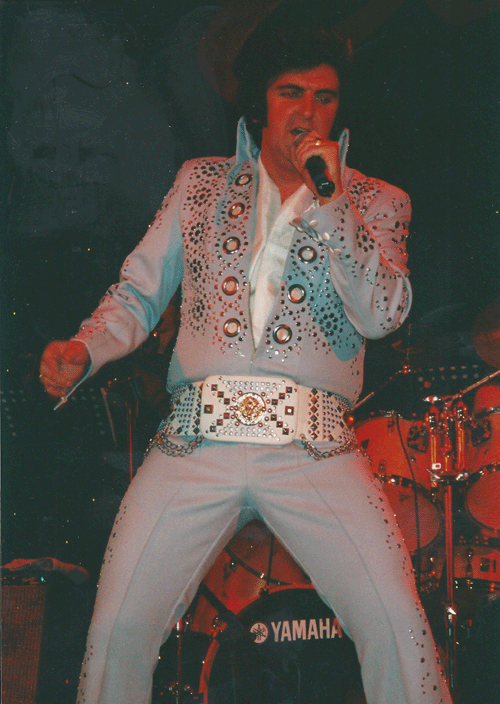 "Alvin - the ultimate Elvis tribute" is great fun to do and having been an avid Elvis fan since the age of 12, it is a great honour for me to get to play my hero at least 3 or 4 times a week.
​
I have been involved in this industry for many years now and about 20 years ago I formed an entertainment agency, where I booked other professional acts on behalf of various clients all over the country. The agency has evolved greatly over the last 10 years and I now manage my own successful entertainment and events company, AP Productions Entertainment & Events Ltd, where we offer a one-stop shop for anyone organising an event, whether it be corporate hospitality, a wedding or celebration of any kind.
​
Please click "about my company" if you would like to know more.